What are Cannabis Chocolates (& are they amaze balls?)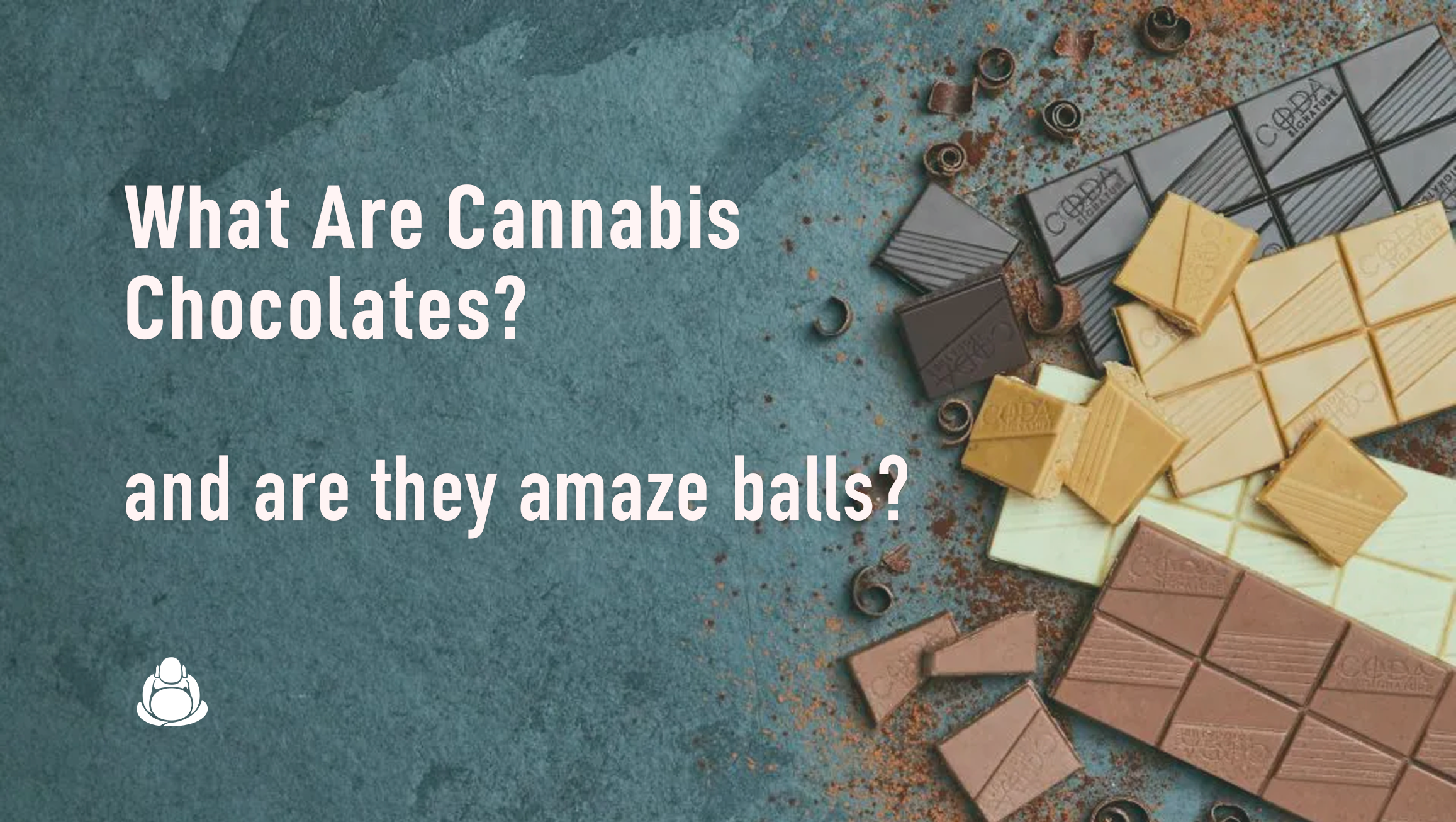 What are cannabis chocolates? Cannabis-infused chocolates are a type of edible that is made with marijuana. They are often made with hash oil or distillates, which is a concentrated form of THC. This means that they will get you high! Chocolates come in many different flavors, and some people find them to be more enjoyable than smoking weed. In this article, we will discuss the benefits of cannabis chocolates and why you might like them better than smoking weed.
Edibles v. Smoking
The two main ways to get high are by smoking weed or eating THC edibles. Both methods will get you high, but there are some key differences.
Smoking Weed
When you smoke weed, the THC enters your bloodstream through your lungs. This means that it hits you almost immediately. However, it also means that the effects don't last as long.
Not only that but with smoking, you don't get the same potency as strong edibles. Potent edibles will have a consistent dose of THC so you can pick your experience.
If you buy weed to smoke you never know what you're going to get. You could get something that's laced or just poor quality.
Chocolate Edibles
When you eat an edible, the THC is absorbed through your digestive system. This means that it takes a little longer to kick in (usually about an hour), but the effects also last much longer. So, if you want a more long-lasting high, cannabis chocolates are a great option.
Cannabis-infused chocolates are usually made with high-quality THC distillate, giving you the right dose every time. Not to mention cannabis-infused chocolate tastes great.
Flavors
Cannabis chocolate bars come in all sorts of delicious flavors. You can buy cannabis-infused chocolate online in Canada. Buuda Bomb makes some of the best edibles that you can buy online.
Some of our favourite flavours include:
Matcha Chocolate, this is a delicious blend of white chocolate and matcha that melts in your mouth

Himalayan Salt Chocolate, this chocolate bar is made of smooth, rich, 72% dark chocolate, mixed with the purest salt on earth, pink Himalayan salt.
Other Types of Edibles
Not a fan of chocolate? Don't worry, there are plenty of other types of edibles available. You can find gummies, candy, brownies, cookies, and more. There's an edible for everyone!
THC Gummies
Gummies are a popular choice because they come in so many different shapes, sizes, and flavours. THC gummies are also precisely dosed so you know what kind of high you're getting.
The best gummies taste like fruit and don't have any lingering weed taste like baked edibles.
Brownies
For those who prefer something classic, brownies are a great option. You can find both regular and gluten-free brownies that are infused with THC. Mostly these are made at home and don't have the precise dosing and great taste of a gummy or chocolate bar.
Cookies
Cookies are another option for cannabis-infused products. These are usually cooked with homemade recipes and the dosing and potency can be inconsistent. You are also likely to get a weed-type taste when eating cannabis cookies.
Why You Should Try Cannabis Chocolates
If you haven't tried cannabis chocolates before, we highly recommend that you do! They offer a unique high that is different from smoking weed. Not to mention, they taste great and come in a variety of delicious flavours. So, what are you waiting for? Order some cannabis chocolates today!
Buuda Bomb has a wide variety of cannabis edibles from gummies to chocolates. All of our products are precisely dosed so that you know you are getting a consistent effect every time. Don't leave anything to chance, get the best edibles products on the market. Available to ship anywhere in Canada. If you are looking for Toronto edibles, Vancouver edibles, Ottowa edibles, Winnipeg edibles, Calgary edibles, BC edibles or edibles to be shipped anywhere in Canada we have what you need.
We make handmade edibles that are tasty, organic, and infused with just the right amount of THC.
OUR MISSION IS CLEAR:
Provide our community with a thoughtful experience through amazing customer service

Make cannabis-infused products out of the highest quality organic ingredients available

From a trustworthy brand that doesn't compromise on taste

Promote proper Cannabis use for a more thoughtful lifestyle
Want to find out more? Check our posts on:
Ready for another article?