Smackdown: THC Edibles v. CBD Edibles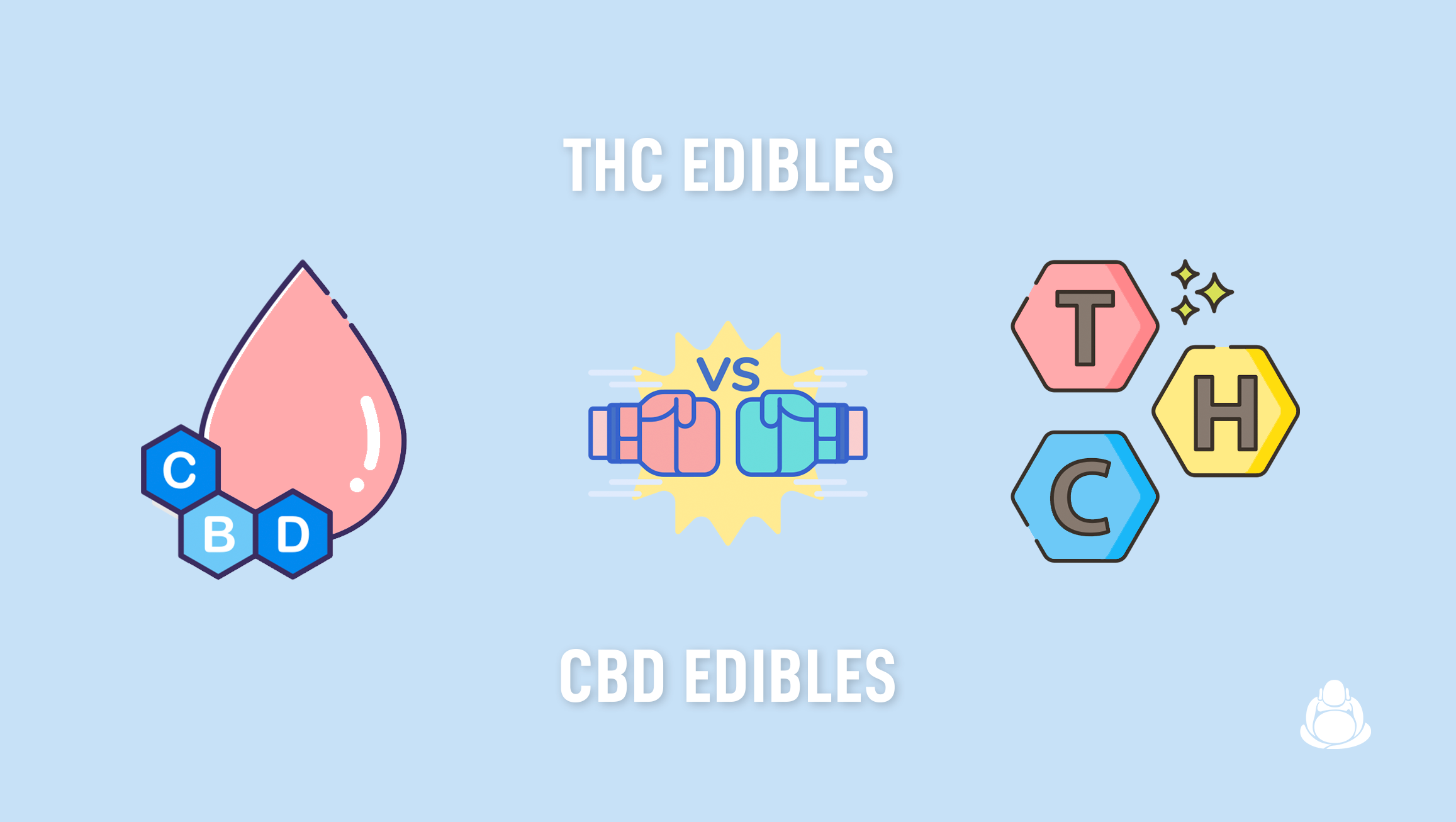 So what's the difference? Is there that much difference between a weed edible and canna edible? When it comes to edible cannabinoids in today's market…it depends.
Take for instance THC gummies, which will definitely get you high in the classic sense because that's what THC does. But with CBD edibles you're still getting a part of the cannabis plant, but not the part that gets you lit. CBD has been known to have many health benefits without getting you high.

CBD has Medical Uses
CBD helps alleviate physical pain and has been known to help with sleep. Not only is it a good sub for getting stoned just to get to sleep, you can take it along with other weed edibles for a different experience altogether.
For those who get a little on edge when stoned, or for just helping cope with stress or anxiety while staying clear headed and calm CBD is just the right thing.
You might wonder how long CBD edibles last, and much like THC it depends on dosage but is metabolized similarly. It also depends on other factors like how much you have eaten, body type and just the simple fact that every body is different.

THC edibles get you High
THC edibles are going to get you high. It's as simple as that, and BuudaBomb has a lot of variety to choose from for just that. Since edible gummies are not the only edibles in their lineup you can really customize your experience. Himalayan Salt Dark Chocolate and O' Matcha Chocolate bars have 15 pieces of 20 mg chocolate squares per bar.
If you're new to edibles or a regular THC smoker you may wonder how long do edibles take to kick in? Usually it's about 45 minutes when taking a gummy, but with chocolate you have choice. Letting a square melt in your mouth will bring the THC in through sublingual which brings on the effect more quickly than digesting it in your tummy. You can get crafty with it and take a square while you wait for edible gummies to kick in to keep a steady high coming.
For those that are curious about THC but maybe nervous about trying it, taking some CBD with the THC experience helps keep you from overthinking or being nervous while high. Whatever canna edible you decide on, if you're looking for perfectly measured pure doses BuudaBomb has so many choices.

Get THC Edibles Delivered right to your door anywhere in Canada

Buuda Bomb has a wide variety of cannabis edibles from gummies to chocolates. All of our products are precisely dosed so that you know you are getting a consistent effect every time. Don't leave anything to chance, get the best edibles products on the market. Available to ship anywhere in Canada. If you are looking for Toronto edibles, Vancouver edibles, Ottowa edibles, Winnipeg edibles, Calgary edibles, BC edibles or edibles to be shipped anywhere in Canada we have what you need.

Want to find out more? Check our posts on:
Ready for another article?