Comparison: White Label x Black Label x Red Label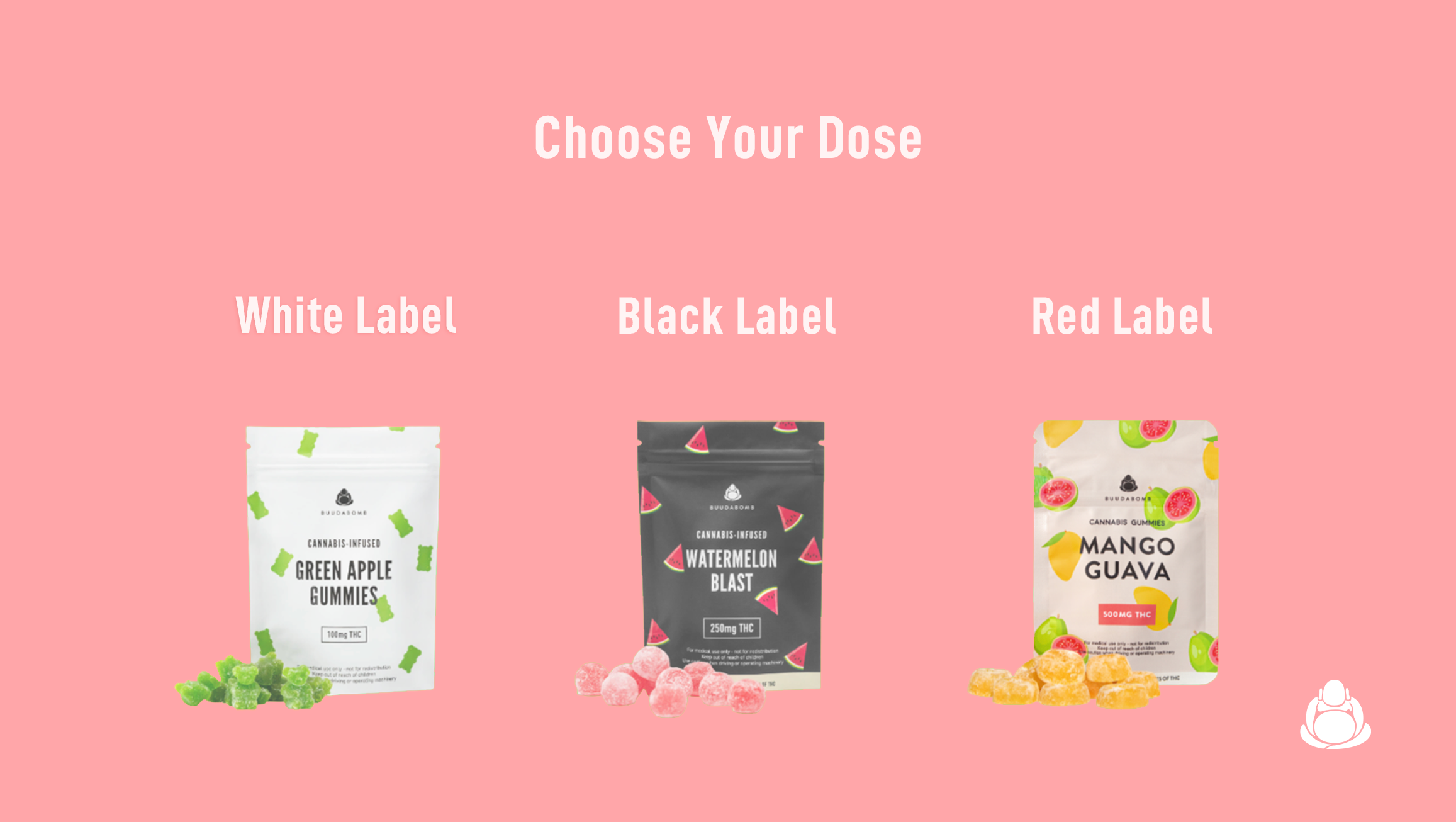 With so many delicious and different doses of BuudaBomb cannabis products to choose from, we wanted to focus on these quality edibles you can get in gummy form.
If you're new to cannabis consumption most important factor is the edibles dosage , so we made it easy by providing 10 pure and perfectly measured doses in different strengths so you can have more control over your experience when consuming cannabis.
All our weed gummies available in Canada are made with organic ingredients and the purest cannabis extracts keeping taste in mind but above all focusing on the quality of your unique and fulfilling experience of cannabis.
White Label
We have the most variety of fun flavours in our white label, each does is 10mg which is the lowest dose in a piece of our marijuana edibles. For the newbie this is the right dose of cannabis edibles to start with, take one or two of these weed gummies and you'll soon see why weed edibles are so popular.
If you are more familiar with cannabis products, you can pop one every couple hours to keep a steady chill throughout the day while still being functional and in the right state of mind.
Micro dosing isn't just for hallucinogens, weed edibles are a great choice for discretion. When you're not smoking marijuana there' s no smell, and a steady delivery of thc without feeling goofy or seeming high to the people around you.
Whatever comes your way throughout the day with these in your system you will be able to have enough focus and clarity without seeming foggy or slow.
Black Label
These weed edibles come in at 25mg of edible cannabinoids for each gummy you take. 25mg of cannabinoids per drop? That is a good dose! One of these cannabis edibles is enough to put a huge smile on your face, and two will have you feeling like you are walking on sunshine. These things are amazing if you are looking for a fun way to consume weed, then I highly recommend giving these edibles a try because you won't be disappointed.
BuudaBombs Black Label thc gummies are perfect for any occasion and have an amazing taste that will make you want more. Taking one is just right to still be fully present while taking two is more of a cerebral trip. Aside from the taste, having the option of what level you want your high to reach is what really makes these special.
Red Label Exotics
The thc edibles dosage on these bad boys clocks in at 50 mg each bite. There are 10 total bites in this package, so the entire thing is 500 mg. This is a pretty high dose for cannabis-infused edibles, emphasis on high. When you're playing with doses on this level you want to make sure the edibles dosage is reliable. The good news is that these are consistent. You'll find that one of these is usually enough to be put in a solid headspace for at least a couple of hours.
If you're looking for a heavy-hitting edible, these are definitely worth checking out. Just be sure to start slowly with the dosage, especially if you are not experienced with canna edibles.
For those that are more experienced with weed gummies and edibles, this is just the right dose to bring the feels you want from your THC trip. Just remember that edibles can take a while to kick in, don't be in a rush to take off. No matter if you are a beginner or an experienced cannabis user, we have the right BuudaBomb THC gummy for you.
With organic and delicious ingredients, easy-to-read labels, and accurate dosage information, we want to make your experience with edibles as safe and enjoyable as possible.
Get Edible Gummies Shipped to Your Door in Canada
Buuda Bomb has a wide variety of cannabis edibles from gummies to
chocolates. All of our products are precisely dosed so that you know you are
getting a consistent effect every time. Don' t leave anything to chance, get thebest edibles products on the market. Available to ship anywhere in Canada. If
you are looking for Toronto edibles, Vancouver edibles, Ottawa edibles,
Winnipeg edibles, BC edibles, Calgary edibles or edibles to be shipped anywhere in Canada we have what you need.
We make handmade edibles that are tasty, organic, and infused with just the
right amount of THC.
OUR MISSION IS CLEAR:
Provide our community with a thoughtful experience through amazing

customer service

Make cannabis-infused products out of the highest quality organic

ingredients available

Form a trustworthy brand that doesn't compromise on taste

Promote proper Cannabis use for a more thoughtful lifestyle
Want to find out more? Check our posts on:
Ready for another article?