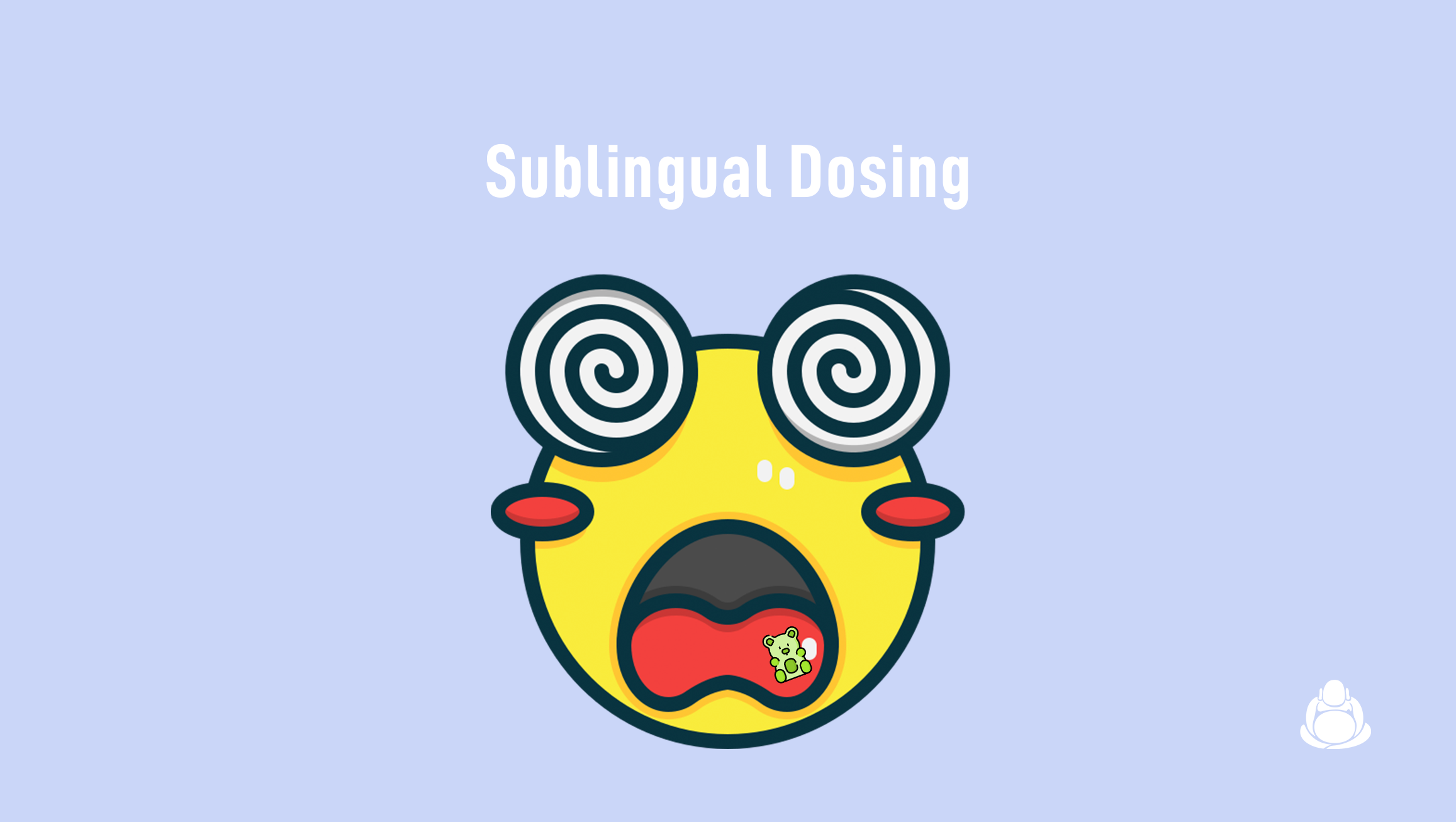 Sublingual sounds so serious and science-y but really it just means under the tongue.
Faster Absorption
When it comes to cannabis edibles or THC infused edibles with cannabis extract sublingual absorption results in a quicker onset of the euphoric effects or medicinal relief. The fewer ingredients an edible has in it the more likely it is for the under the tongue effects to kick in. By taking the dose just under the tongue it absorbs into the body much quicker. No need to wait 30 minutes to an hour for your edible to kick in.
Do you need a special kind of edible?
There are tons of varieties of marijuana edibles available on the market, many marketed and packaged toward sublingual absorption as though there is some scientific breakthrough that has been mastered with whatever specific method is being marketed. These descriptions are often combined with punch words like "pure THC extract for sublingual absorption"… and an extra 10 dollars.
You won't find it on the description, but BuudaBomb THC chocolate bars provide sublingual absorption when you let one 20mg square melt in your mouth. The pure THC extract used in their chocolates provide the same quick onset of relief or high, or whatever reason you are sucking on THC chocolates for.
It's Way Better than Smoking Weed
When you smoke weed to get high, you inhale a lot more than just THC and the amount of THC that actually gets into your system varies by a bunch of boring factors like how hot you heated your flower, how much you inhaled, how long you held it in your lungs, to name a few factors. That doesn't even go into the quality of flower and variables associated with that.
What dose should I take?
I like to keep it simple. One or two squares from the 300 mg 15 square bar gives you the same amount of pure THC extract for sublingual absorption in every square. The only variables with the cannabis infused chocolates are the variables you create. Dosage will be the same per square, whether you are having a bite of the Dark Chocolate Himalayan Salt or the unique and oh so popular O'Matcha Chocolate.
You could munch on one or two of these squares and wait a little bit for it to be digested. Since BuudaBomb uses high quality and very few ingredients it does not take long for the THC effects to onset through digesting. If you are looking for that immediate relief, instead of chewing up the square just let it melt in your mouth. These THC edibles are super delicious with flavour profiles that you won't mind letting linger under the tongue.
Choose Your Adventure
You get to choose your effect onset which comes in handy especially for those who use THC edibles for medicinal purposes or for those who have trouble chewing or keeping food digested due to medical reasons. Other THC edibles like cookie sand cake like edibles are not the best cannabinoid delivery methods when it comes to quick relief or onset.
Having the choice to get immediate under the tongue benefits from BuudaBombs pure THC curated chocolates or a steadier and slightly slower through the stomach by swallowing is why these chocolates are so popular.
Since I have been using cannabis for a while and am experienced user, I like melting one and chewing one up. This way I get the immediate relaxation and smile on my face and find myself without a single care in the world about 45 minutes later when the second one starts kicking in.
Get Precisely dosed Cannabis delivered right to your door anywhere in Canada
Buuda Bomb has a wide variety of cannabis edibles in varying doses from gummies to chocolates. All of our products are precisely dosed so that you know you are getting a consistent effect every time. Don't leave anything to chance, get the best edibles products on the market. Available to ship anywhere in Canada. If you are looking for Toronto edibles, Vancouver edibles, Ottawa edibles, Winnipeg edibles, Calgary edibles, BC edibles or edibles to be shipped anywhere in Canada we have what you need.
We make handmade edibles that are tasty, organic, and infused with just the right amount of THC.
OUR MISSION IS CLEAR:
Provide our community with a thoughtful experience through amazing customer service

Make cannabis-infused products out of the highest quality organic ingredients available

From a trustworthy brand that doesn't compromise on taste

Promote proper Cannabis use for a more thoughtful lifestyle
Want to find out more? Check our posts on:
Ready for another article?