Product Review: Red Label Exotics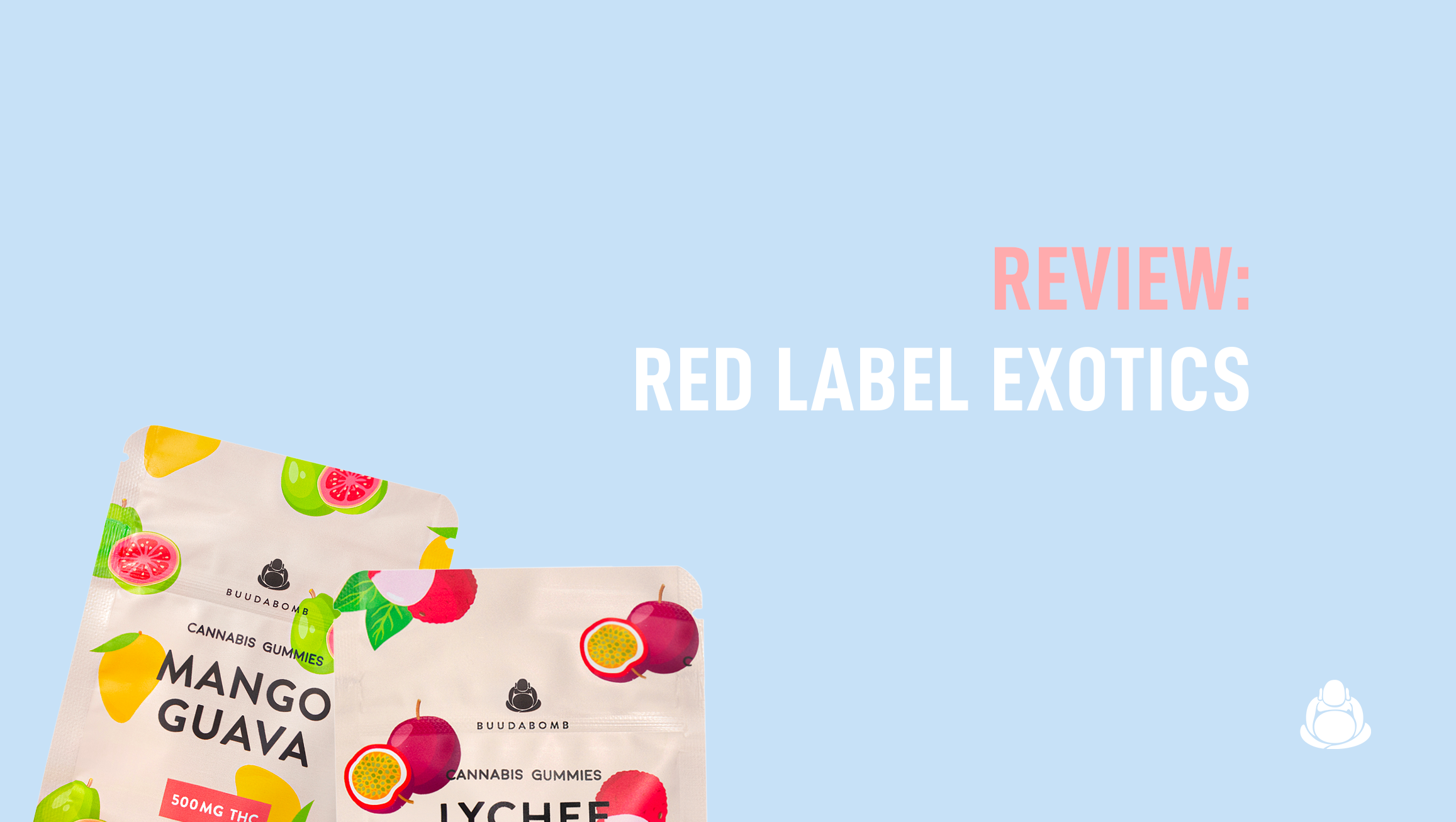 With weed becoming legal in many places around the world, people are beginning to experiment with new ways of consuming it. Edibles are a great way for cannabis consumption, and they can be extraordinarily potent.
That's why we love these weed gummies, edible marijuana can be a gamble if you're trying to make it at home, but Buudhabomb edible gummies are precisely dosed to really give you a strong edible experience.
Precise Dosage
Just one of these 50 mg THC gummies will have you on another level, the experienced cannabis consumer will not be disappointed. When you're digging into this bag be ready to be in the clouds for a few hours, taking 2 will take you out of this world.
Weed edibles come in so many different forms, having a tiny gummy with such a big punch of cannabis extract really streamlines delivery of the edible cannabinoids without filling you up.
Fruit Flavoured, not Weed Flavoured
With this much cannabis extract in an edibles dosage, you'd expect to taste the weed, but the exotic flavor choices of Mango Guava and Lychee Passionfruit do all the work of masking the THC taste in such a small bite, it's hard not to reach for another.
Better than Baked Edibles
Typically you'd find this type of edibles dosage in a baked good but BuudhaBombs has perfected a way to infuse their weed gummies with potent amounts of THC while keeping a bright flavor for an even brighter day.
Control your Experience
As with all edibles dosing, keep in mind that it will vary on how long for thc gummies to kick in by the individual and the experience. Whether you've eaten a big meal or not you'll surely notice when this high hits. You'll be dropping these weed edibles in Canada, but the taste will take you to the tropics and the high will take you…wherever your mind wants to wander.
A Discreet High
Weed edibles are a great way to get your high on discretely, with this strength of thc gummy in your system it would be pretty evident to those around that you're having more than just a good day. Luckily, BuudhaBomb has white label (10 mg doses) and black label (25 mg) thc gummies so you can dose yourself discretely for any occasion. For those who want their high to come on quicker there are chocolate bars dosed at 20 mg a square so your thc edibles choices aren't limited to just edible gummies.
Tips and Tricks
For a night out or to amp up a concert or movie experience, I like to let a chocolate square melt in my mouth followed by an edible gummy. Be smart about what edible dosage you give yourself when combining the best of both worlds. This method gets the chocolate THC boost into the system to feel it quickly while you allow the thc gummy to kick in. This way you get a steady state of euphoria as you peak with the chocolate the gummy should also be working the magic of edible marijuana.
Try Buddha Bomb
Buuda Bomb has a wide variety of cannabis edibles from gummies to chocolates. All of our products are precisely dosed so that you know you are getting a consistent effect every time. Don't leave anything to chance, get the best edibles products on the market. Available to ship anywhere in Canada. If you are looking for Toronto edibles, Vancouver edibles, Ottowa edibles, Winnipeg edibles, Calgary edibles, BC edibles or edibles to be shipped anywhere in Canada we have what you need.
We make handmade edibles that are tasty, organic, and infused with just the right amount of THC.
OUR MISSION IS CLEAR:
Provide our community with a thoughtful experience through amazing customer service

Make cannabis-infused products out of the highest quality organic ingredients available

Form a trustworthy brand that doesn't compromise on taste

Promote proper Cannabis use for a more thoughtful lifestyle
Want to find out more? Check our posts on:
Ready for another article?