Taro-ble Fun: Bubble Tea-Flavored THC Gummies That'll Blow Your Mind (and Taste Buds!)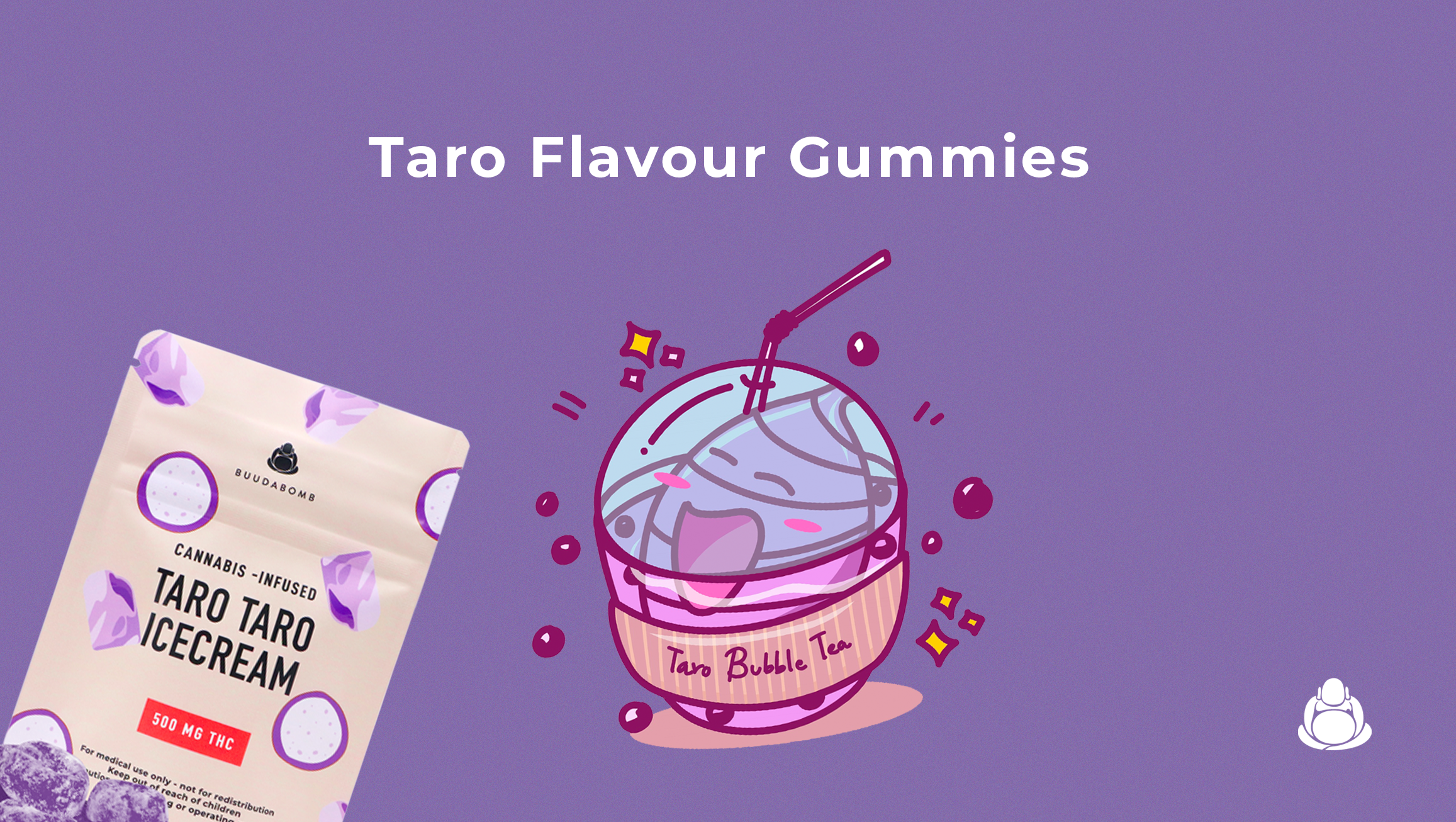 Hey there, fellow adventurers and bubble tea enthusiasts! If you've ever dreamed of a perfect blend of trippy fun and the tantalizing taste of taro, then hold onto your taste buds because we're about to dive into the wacky world of taro-flavored THC gummies! Buckle up, my friends, because this ride is going to be a wild one!

Taro Talk: The Purple Potent Wonder
First things first, let's talk about taro. This enigmatic root veggie from the tropics is famous for its vibrant purple hue and unique taste. It's like a unicorn potato, but better! Taro in bubble tea is like the captain of flavor, leading the charge with its creamy, dreamy goodness. Now, imagine combining this tasty tuber with THC-infused gummies - pure genius!
The Taste Test: Magic in Purple
Cracking open the pack of taro-flavored THC gummies is like opening the door to a land of psychedelic wonders. The purple pops of perfection beckon you, calling out, "Try me, daredevil!" And oh, dare we did! From the first bite, we knew we were in for a flavor roller coaster that would make Willy Wonka blush.
The gummies are a burst of sweet, creamy taro goodness with just a hint of cannabis undertones - think of it as a harmonious dance between the root of awesomeness and the green goddess of THC. This combination is so delightful that you'll be questioning why all your snacks aren't this magical!
Taro-ble Highs: Trippy Tea Party
As the THC gently takes hold, you'll find yourself floating on a cloud of bliss, like you're sipping bubble tea in the sky. Time seems to slow down, and everything becomes more vibrant and fascinating. Your mind becomes a kaleidoscope of ideas, and you'll find yourself pondering the deepest questions, like why don't taro-flavored THC gummies come in bulk packages?
Bubble Tea Dreams: Flavors and Fantasies
Remember those bubble tea pearls that are as satisfying as popping bubble wrap? Well, get ready for an even wilder twist. The THC adds a dash of whimsy to this already delightful experience. Each bubble tea bubble becomes a tiny universe of chewy joy, and you'll be popping those bubbles like a bubble tea pro!
But wait, there's more! The taro-flavored THC gummies bring out your inner bubble tea mixologist. You'll find yourself concocting crazy flavor combinations in your mind - lychee passion fruit with a sprinkle of stardust, anyone? The possibilities are as endless as your imagination, and it's a flavor-fueled adventure you won't soon forget.
The Chill Factor: Relax and Rejuvenate
Now, some of you might be wondering about the "chill" factor of taro-flavored THC gummies. Fear not, my friends, for these gummies are the perfect blend of mellow and marvelous. They'll guide you to a place of relaxation and rejuvenation, like a hammock on a tropical beach with your favorite tunes playing softly in the background.
Whether you're sharing giggles with friends, enjoying a solo adventure, or simply floating through the cosmos on a taro-flavored cloud, these gummies have got you covered with a dose of laid-back euphoria.
Final Verdict: A Purple Party Worth Popping!
In conclusion, dear adventurers, taro-flavored THC gummies are a psychedelic treat for your taste buds and your mind alike. They're a fusion of flavor and fantasy that'll make your bubble tea dreams come true.
Just remember, always consume responsibly and be in a comfortable environment. These gummies may be whimsical and wonderful, but they're not meant for every occasion. So, grab a pack, share the trippy tea party with friends, and let the taro-ble fun begin!
Until next time, happy gummy munching, and may your bubble tea adventures be as purple as can be!
Ready for another article?