STRUGGLING TO WIND DOWN BEFORE BED? SLEEP AND CBD GUMMIES ARE THE ANSWER TO YOUR PROBLEMS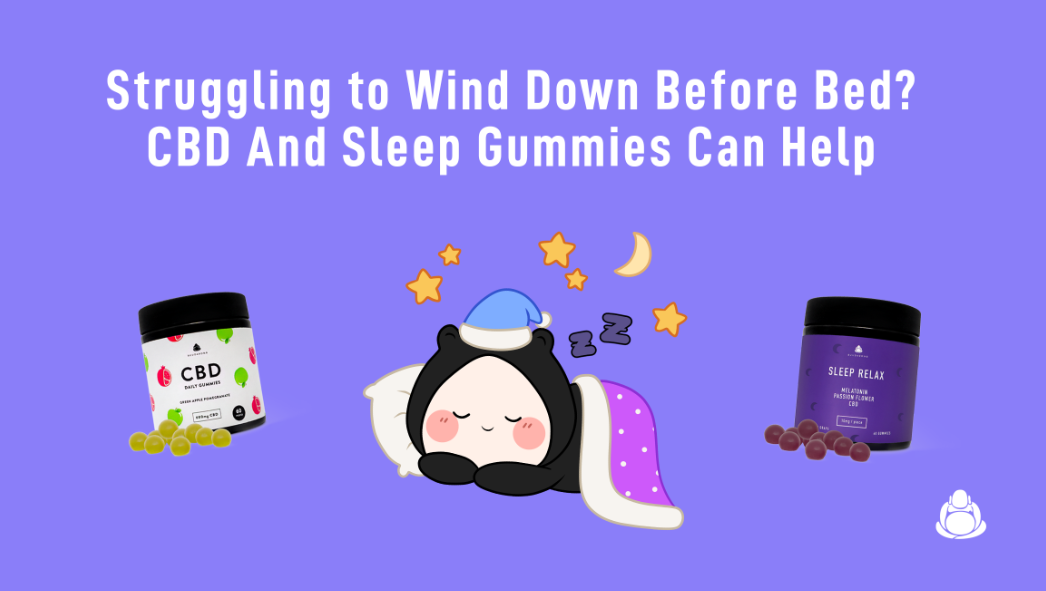 If you're looking for a way to wind down before bed, CBD and sleep gummies are for you! CBD gummies and CBD infused sleep gummies have been shown to help promote relaxation and sleep. When combined with other natural sleep aids melatonin and passionflower you have a S tier combo that will help you relax into sleep and wake up every morning feeling relaxed, refreshed, and energized.
Your day starts with the night before. So having a good sleep routine isn't just essential for getting a good night's rest, it's crucial for having a productive next day. And using CBD sleep gummies can help make it easier for you to stick to your routine.
Benefits of Using CBD as part of your sleep routine
CBD is known for its relaxing properties, and research has shown that it can help improve sleep quality. When you take CBD sleep gummies before bed, you're giving your body a chance to relax and wind down. This can help you fall asleep more easily and wake up feeling refreshed.
If you're looking for a sleep aid that's natural and effective, CBD sleep gummies are the truth. They're non-habit forming, so you can use them as needed without worrying about addiction or dependence. And because they're infused with CBD instead of THC, they don't make you high, they just put you into a relaxed state.
CBD can also be mixed with other natural ingredients such as melatonin and passionflower to form a natural sleep "super potion" that has a ton of benefits.
Eases Anxiety
CBD is a natural anxiolytic, which means it helps to reduce anxiety. If you're struggling with sleep because of anxiety or stress, CBD sleep gummies can help you relax and get the rest you need.
Fights Insomnia
CBD has been shown to help improve sleep quality and fight insomnia. If you find it hard to fall asleep or stay asleep, CBD sleep gummies can help you get the restful sleep you need.
Promotes a regular sleep cycle
Melatonin can help promote a regular sleep cycle by helping you fall asleep and stay asleep. If you often wake up feeling groggy or have trouble staying asleep, sleep gummies can help you get on a better sleep schedule.
Deeper sleep
CBD along with melatonin can help you sleep more deeply and wake up feeling rested. If you're struggling with sleep quality, sleep gummies can help you get the deep, restful sleep you need.
Ingredients to look for in CBD sleep gummies
When you're shopping for sleep gummies, look for products that contain natural ingredients like CBD, melatonin, and passionflower. These ingredients have all been shown to be effective in promoting sleep.
Melatonin
Melatonin is a hormone that helps to regulate sleep and wake cycles. It's often used as a sleep aid because it can help you fall asleep and stay asleep.
Passionflower
Passionflower is an herb that has been used for centuries to promote sleep. It's traditionally been brewed into a tea, but it can also be taken in capsules or an ingredient added to a sleep gummy.
How to use CBD Melatonin Gummies as part of your sleep routine
Take 30 minutes before bed
Typically CBD takes around 30 minutes to kick in. You should take a gummy when you are about ready for bed. Your body will start to get into a relaxed state and since they ease you into sleep you don't have to worry about feeling an instant need to pass out.
Incorporate Relaxing Activities
Listen to some calm music, meditate, or read a book in bed so you are in a comfortable place to fall asleep for the night.
Prepare to sink into sleep
While the CBD will relax your body and ease any pain or anxiety you are feeling, the melatonin goes to work to help you feel like you are sinking into sleep.
Wake up feeling refreshed
Since all the ingredients in the sleep gummies are natural you don't wake up with any "hangover effects" or form a habit where you have to take them every night to get to sleep.
All in all the process is easy, you simply take your sleep gummy, fall asleep effortlessly and have a normal sleep cycle!
HIT THE SLEEP LOTTERY
Buuda Bomb has come through with the best natural sleep aid on the market, using a combination of CBD + Melatonin + Passionflower this new gummy will calm you, reduce anxiety and help you fall into a restful sleep everynight without sleep hangovers or side effects.
GET A GREAT NIGHT'S SLEEP DELIVERED RIGHT TO YOUR DOOR ANYWHERE IN CANADA
Buuda Bomb has the gummies you need to get restful sleep every night. All of our products are precisely dosed so that you know you are getting a consistent effect every time. Don't leave anything to chance, get the best natural sleep product on the market. Available to ship anywhere in Canada. If you are looking for Toronto CBD Melatonin, Vancouver CBD Melatonin, Ottawa CBD Melatonin, Winnipeg CBD Melatonin, Calgary CBD Melatonin, BC CBD Melatonin or CBD Melatonin to be shipped anywhere in Canada we have what you need.
OUR MISSION IS CLEAR:
Provide our community with a thoughtful experience through amazing customer service

Make cannabis-infused products out of the highest quality organic ingredients available

From a trustworthy brand that doesn't compromise on taste

Promote proper Cannabis use for a more thoughtful lifestyle
WANT TO FIND OUT MORE? CHECK OUR POSTS ON:
Ready for another article?