Free Canada Wide Shipping: All Orders Over $150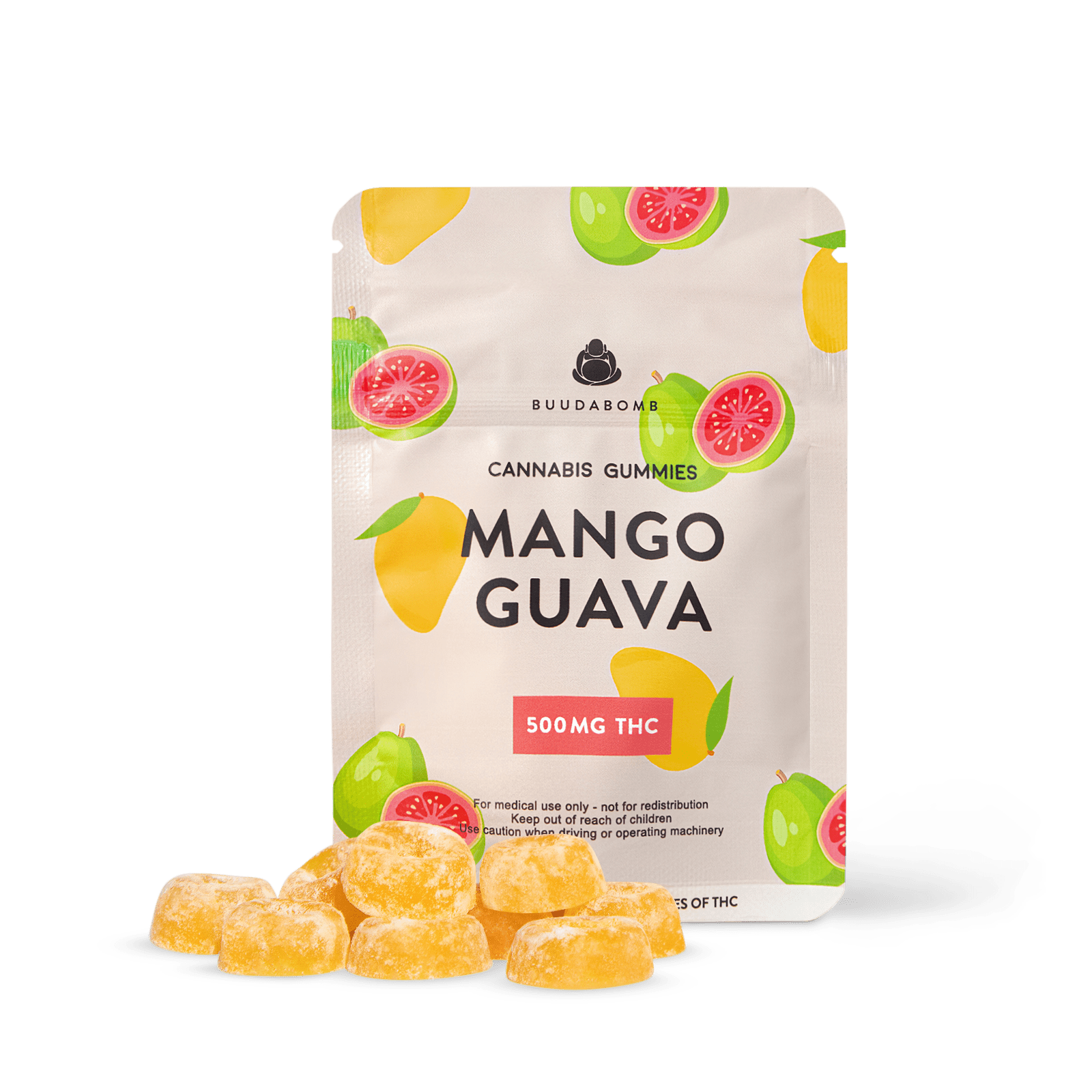 Mango Guava Gummies
Put on your favourite shades and sunscreen.
And let these tropical baddies transform your staycation into a vacation. Made with the same love and attention as our white and black labels, these Mango-Guava gummies are sure to add a pint of the tropical riddim to your WFH.
10 cannabis-infused gummies
Each bag contains

500mg of THC

Made with organic ingredients
Available only in Canada.
Description
Frosted mango guava gummies infused with high quality, cannabis distillate.
Ingredients
Super PureTM Distilled THC, organic tapioca syrup, organic cane sugar, water, fish gelatin, sorbitol from organic fruits and vegetables, citric acid, natural flavors, organic sunflower oil and organic carnauba wax.
Shipping
Orders over $150 ship free within Canada. Expedited shipping options available at checkout.
Reviews
Maninder .
The best product i ever consumed highly recommended ????????????????????
Jessica P.
The person who said the high is ??????? truly said it best
Brenda C.
These gummies are the "Bomb", They take every little bit of pain away for hours. I am so productive when I take these I can actually function with a migraine! They have changed my life!
Diana D.
Been taking edibles for around 6 years now and nothing compares to Buuda bomb's edibles - especially these bad bois. If you have a higher tolerance and think taking 50mg normally is what you need, try taking a bit less, they hit harder than you expec
Lizzy D.
Kicked my butt, I didn't expect these to go as hard as they did. The flavour is awesome and the high is ????????
Suki .
Amazing!!! I highly recommend, very good flavour and gives a perfect high :)
brian t.
HOLYYY these hit so hard, felt sooo floaty. great ride highly reccommend :D
Marcela R.
Hands down my favorite flavor ???? INCREDIBLE
Corey N.
You definitely can't go wrong with Mango and Guava. These are the best tasting guava gummies I've had.