Free Canada Wide Shipping: All Orders Over $150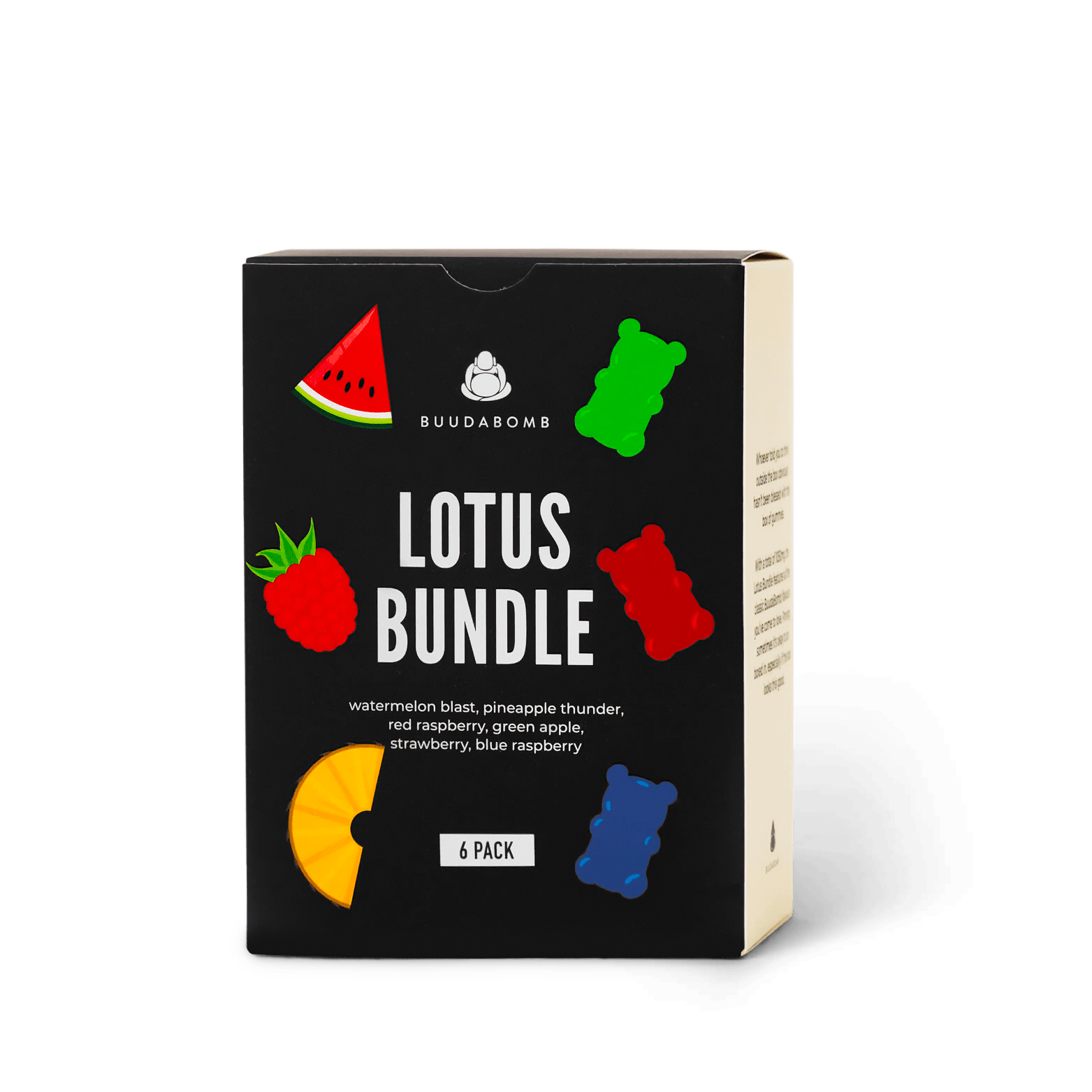 Lotus Bundle
Whoever told you to think outside the box obviously hasn't been blessed with this box of gummies.
With a total of 1050mg, the Lotus Bundle features all the classic BuudaBomb flavours you've come to love. Proving sometimes it's okay to be boxed in, especially if the box looks this good.
This box contains 6 packs of BuudaBomb's
1 x Green Apple Gummies
1 x Strawberry Gummies
1 x Blue Raspberry Gummies
1 x Pineapple Thunder
1 x Rippin Red Raspberry
1 x Watermelon Blast
Available only in Canada.
Reviews
Cindy T.
This is the perfect bundle! My bf and I like to split it as his tolerance is much higher than mine. He enjoys the black labels while I enjoy the white labels. These are great to fall asleep with! The tastes are top notch! The dosages are very consisten
Austin S.
This is an awesome bundle with some great variety, some strong gummies and some light gummies for all occasions. Buudabomb gummies have done me well :) highs are good and the taste is awesome too! Will definitely be buying more
Adam M.
Love it. Cost effective and a great buzz.
Mark C.
If you are confused which flavour to choose, this is your answer. THIS SHIT SLAPS, no matter which flavour you choose, you have it ALL????????
Misha S.
I'm happy about this purchase,and till the moment I didn't try the 6 flavours,cuz i started with the 10 mg. gummies! They're so intense on me i dunno why????
Adrian C.
Incredible value. Great for personal use and even better for sharing. Highly recommended!
Lizzy D.
Talk about bag for your buck, best cost for cause if you ask me. Easily my most frequent purchase
Suki .
perfect for new customers that wanna give this brand a try, but don't know what to start with.
brian t.
Brought this to a party, it was quite a hit !!! definitely grabbing another one