Taking cannabis-infused dinners to another level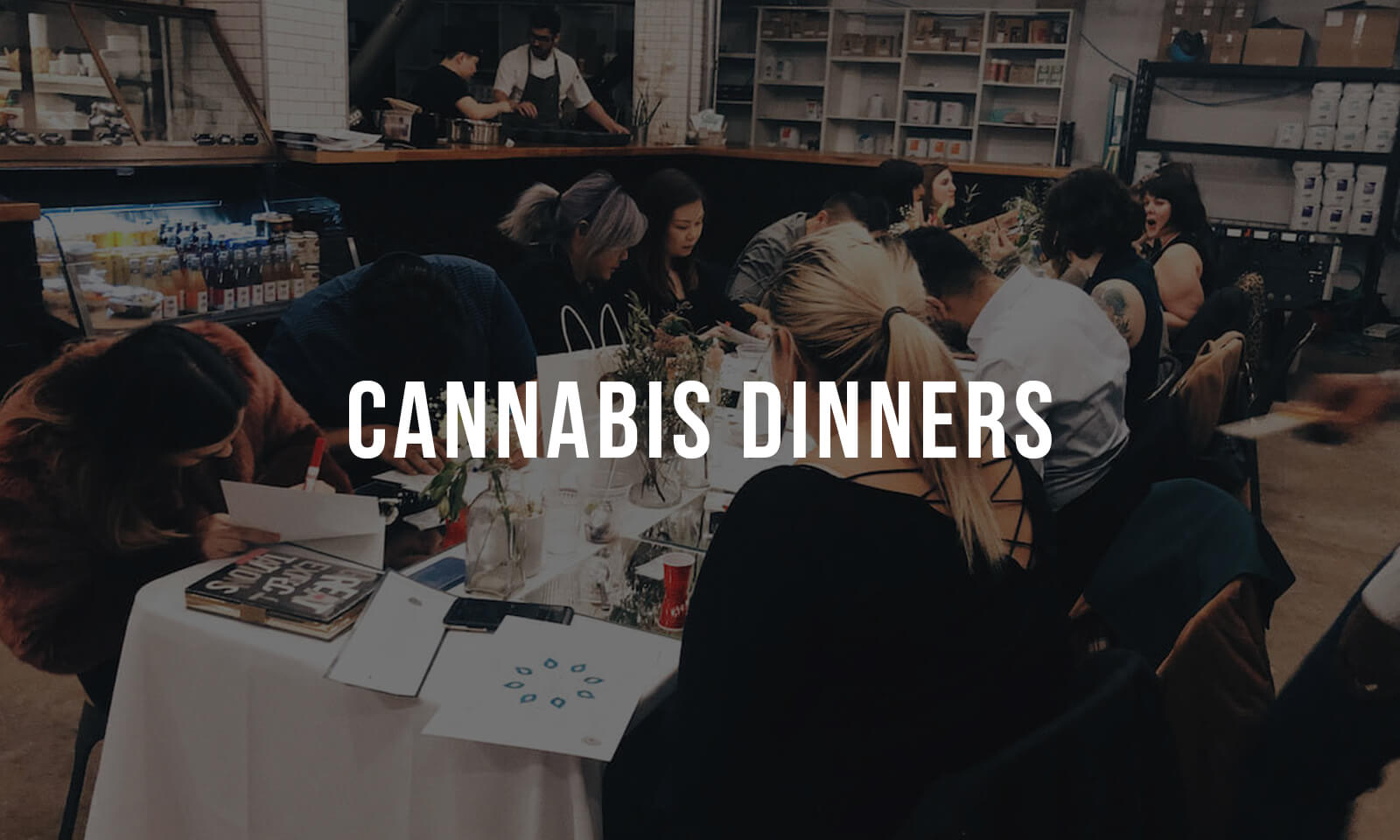 As I bit into a delicately sliced and flame-torched, weed-infused scallop, I instantly knew this dish would become one of the best things I've ever had the pleasure of eating. The sweet and citrusy dressing complimented the fresh scallops so well--but, I'm getting ahead of myself...
How it Happened
It was a Saturday and I although I was supposed to have the day off, I decided to go into the office to get some writing done. The team and I were working on designing our new blog when Johnny walked in and asked, "Have any of you guys heard of Preserve Indulgence?"
He pulled up their website and our team crowded around to take a look: A Toronto chef named Cindy was offering up fancy cannabis-infused pop-up dinners in Toronto and she asked to connect with us.
BuudaBomb's been pretty generous when it come to sponsorships. So when Preserve Indulgence, which encourages and explores experimental culture (just like us!), asked if we could sponsor their loot bag, we jumped at the opportunity. It's of course, good promotion, but it's also a great way to bring forward a part of the cannabis-movement that still lives in the grey area.
We sent an email to Cindy to let her know we really loved her unique way of making food and cannabis come together and sent two cases of Grape Gummies her way.
The Invite
A week later, Cindy told us she was grateful for our generous donation and asked if we wanted to come to one of her pop-up dinners. Tickets to this exclusive Garden of Eden event go for $150 each, but Cindy generously offered us one for free.
I told Johnny that I'd really love the opportunity to check it out and unwind, if only for a few hours so he purchased a ticket one more ticket for my girlfriend to keep me company.
Meet and Greet
We got to the secret downtown location at 7 pm sharp. The staff greeted us, and helped us get comfortable. The space was open-concept and had a very industrialized look to it. In the middle of it all there was a beautifully decorated table set up to to fit all the guests.
Each assigned seat offered up a full course menu, a loot bag and a name tag so we could all get to know each other during this intimate evening. We spent the next half hour hanging around the drinking area (there were only non-alcoholic drinks, including kombucha and wonderful infused teas) and chatted with everyone.
Ladies and gentlemen, you may be seated
At 7:30 p.m., everyone was seated. The magic was about to start.
Chef Cindy came to the table and explained how the night was going to go. To add to the experience, we were going to play a game of Cards Against Humanity while we ate.

(Full disclosure, I hate Cards Against Humanity. As someone who has a really unique, morbid sense of humour, I always feels like we're being forced to pick cards that we think other people will find funny, even if we don't find it ourselves...but I digress.)
As Cindy passed the cards around, everyone quickly talked about how they found out about this invite-only event and their experiences with cannabis-Infused food. It's honestly so interesting hearing everyone's stories. Some people come to party, some people come for the food and some people come because this is just a stop on their spiritual journey.
As the game got going, an amazing aroma filled the air. Everyone began talking about how their hunger was at an all-time high and just couldn't wait to taste Cindy's creations. So, without further ado, let's take a look at what was offered up.
The seven courses that lead to nirvana
"High Tea"
Egg, taro, black olive tapenade, wasabi caviar
"Welcome to Weeden"
scallop, honey, scallions, lime, sesame oil, Dashi broth
"Stop Trying to Make Everyone Happy, If You're Not a Blunt"
Red cabbage, octopus, king mushroom, smoked paprika carrot puree, morning glory
I just have to chime in here to say that the scallops and octopus blew my and (everyone else's) mind. I'd never tasted anything like it before. The flavours, textures and presentation left us wanting more and more.
After everyone had inhaled every morsel of the octopus (some even licked their plates!), colouring sheets were brought out. Dabbling in the arts while high is really dope and everyone loved it.
"It's a Party. It's a Party"
Rainbow candy, sake, shiso, grapefruit, bacon


"Astronomonomnomical"
Chives, crab meat dumpling, edible gold


The high started to really kick in right before course six. Everything we tried was phenomenal. The woman sitting beside me was allergic to a lot of things and unfortunately wasn't able to finish half of her dishes. I remember being low-key mad every time the waiter took away each dish once she was done. I wanted her leftovers, that's how good it was! (If you asked me if there was one course that I'd pass on the second time around, It would have to be the sweet corn cake. It was heavy on the blue cheese and that just isn't my thing.)


"Always Be Strong"
Brisket, scallions, bonito, red cabbage, thousand year old egg, lobster chip
"To the Moon"
Blue cheese, sweet corn cake, Nectar & Pollen CBD honey


To wrap things up, my Garden of Eden experience was nothing short of amazing. I respect the level of ingenuity and effort that it takes to pull off something like this (event after event). I really can't wait to see what Chef Cindy comes up with next.


Intrigued by Chef Cindy's fantastic creations? Check out Preserve Indulgence to learn more.

Ready for another article?