PRODUCT REVIEW: CHOCO LOCO CRUNCH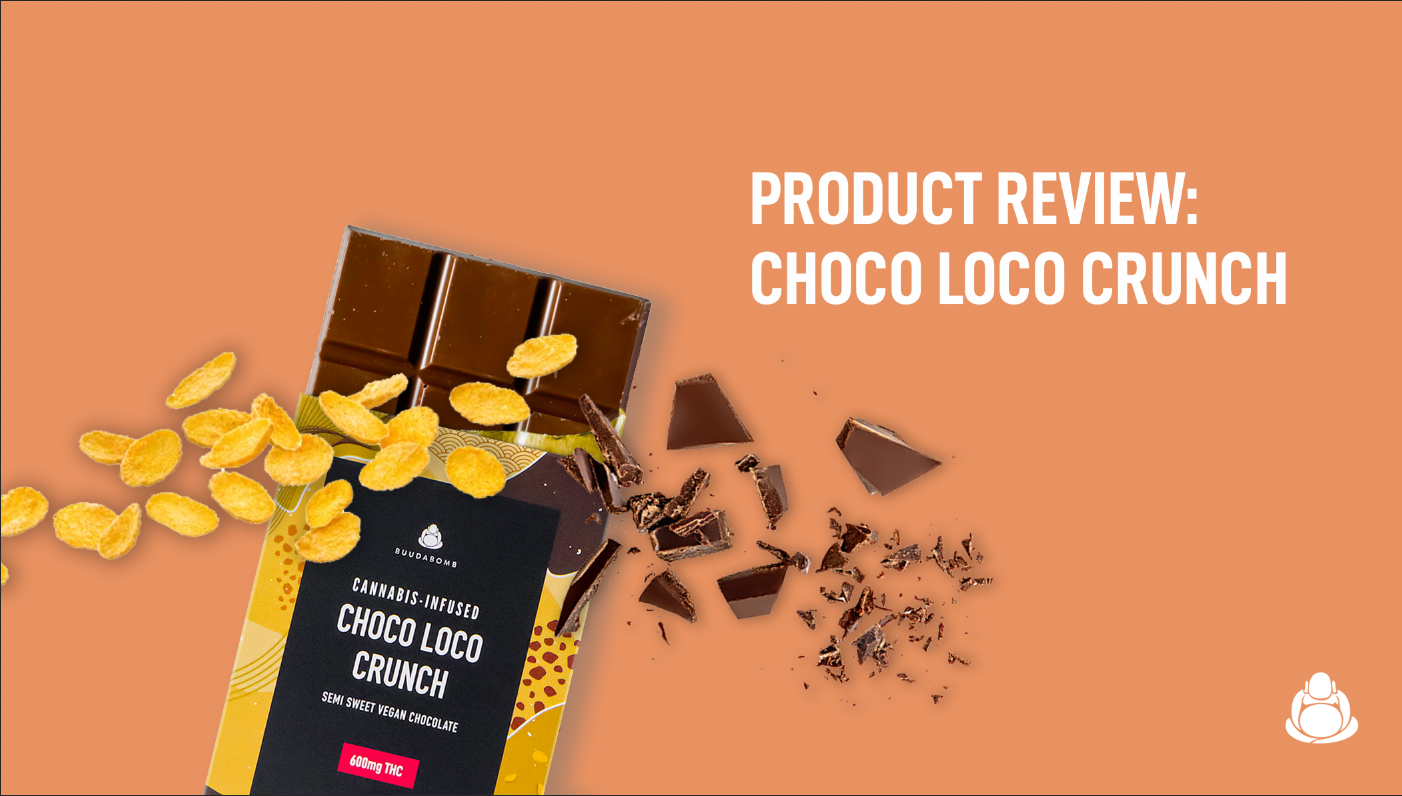 If you are looking for some delicious THC chocolates that pack a serious punch (for real don't take too much or you will be laid out!), then you are gonna love the new Choco Loco Crunch bar.

With 600mg of THC per bar you just need one piece to make you feel like you've been transported to a Saturday morning cartoon fest. This wonder bar has semi-sweet layers of chocolate and corn flakes for crunch, making you feel like you ate a psychedelic crunch bar.
THC CHOCOLATES V. BAKED EDIBLES
When I want to add some sparkle to my evening, THC chocolates are my favorite way to start feeling it right away with the assurance that feeling is going to last.
THC chocolates are a superior edible because they are precisely dosed, taste great and let you choose your experience. Want them to kick in right away? Melt a piece under the tongue. Want to have a slow burn where your chocolate doesn't kick in for 30 minutes or so? Just munch on a piece of chocolate and let your digestive system do it's work.
Baked edibles and cupcake things can give you a wild experience for all the wrong reasons. Whether the taste just isn't right, someone didn't dose it correctly or it just messes up your stomach you never quite know what you're going to get.
HOW MUCH SHOULD I TAKE?
The answer is usually MORE! In this case though this Red Label 600mg bar comes with some serious THC dosage. Even if you are a THC guru you should start off with just one piece of this crunchy treat.
For new users looking to add some THC adventures to their evening you should start off with half a piece of chocolate and see how you go from there.
Remember that if you munch on a piece versus melt it under your tongue it may take a bit to kick in so be patient, you will be feeling like sunshine in no time.
GET PRECISELY DOSED THC CHOCOLATES DELIVERED RIGHT TO YOUR DOOR ANYWHERE IN CANADA
Buuda Bomb has a wide variety of cannabis edibles in varying doses from gummies (LINK TO GUMMIES IN SHOP) to chocolates (LINK TO CHOCOLATES IN SHOP). All of our products are precisely dosed so that you know you are getting a consistent effect every time. Don't leave anything to chance, get the best edibles products on the market. Available to ship anywhere in Canada. If you are looking for Toronto edibles, Vancouver edibles, Ottawa edibles, Winnipeg edibles, Calgary edibles, BC edibles or edibles to be shipped anywhere in Canada we have what you need.
We make handmade edibles that are tasty, organic, and infused with just the right amount of THC.
OUR MISSION IS CLEAR:
Provide our community with a thoughtful experience through amazing customer service

Make cannabis-infused products out of the highest quality organic ingredients available

From a trustworthy brand that doesn't compromise on taste

Promote proper Cannabis use for a more thoughtful lifestyle
WANT TO FIND OUT MORE? CHECK OUR POSTS ON:
Ready for another article?