PRODUCT REVIEW: APPLE POMEGRANATE CBD GUMMIES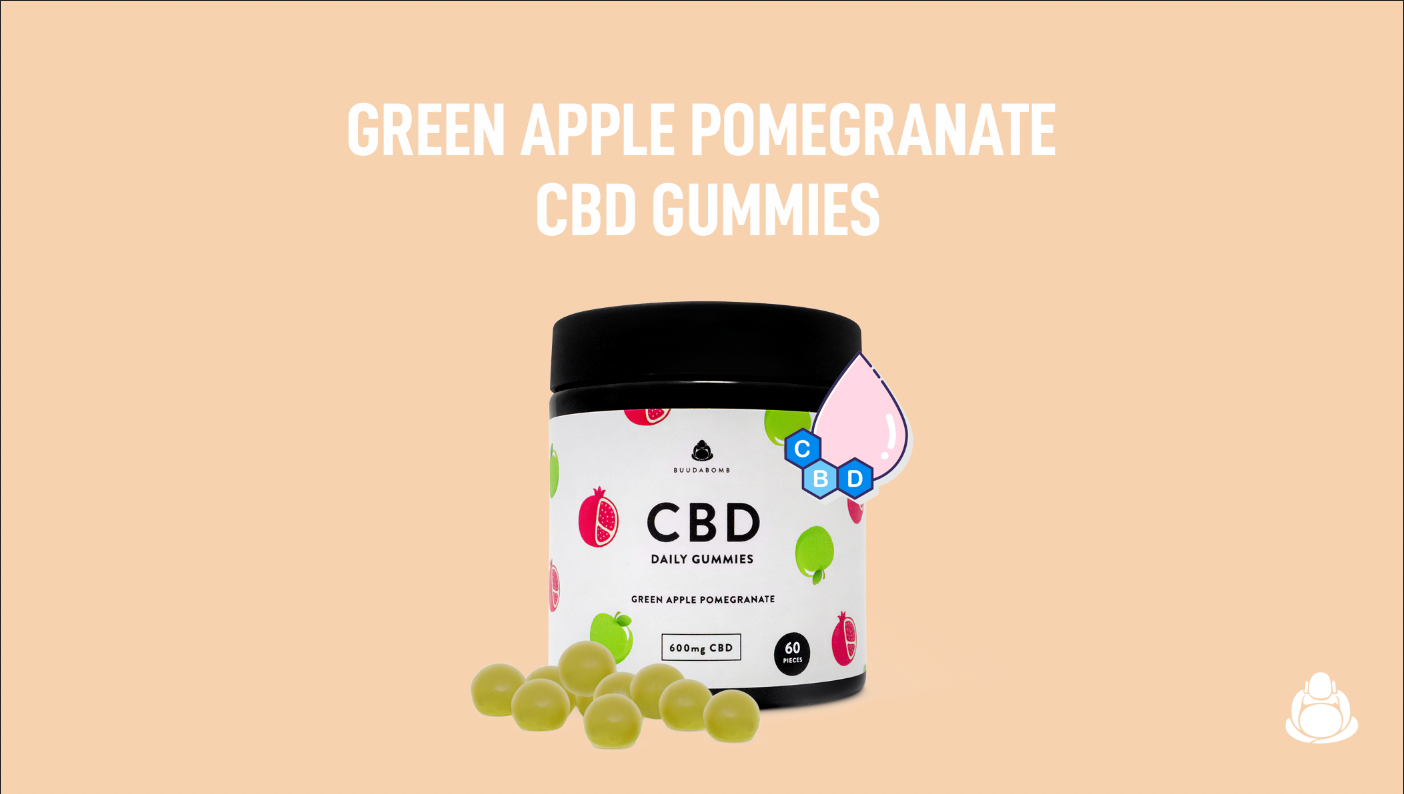 If you're ready for a blissful day, buckle up because Buuda Bomb has released Apple Pomegranate CBD Gummies. When it comes to edible CBD, there are some differences between THC and CBD Gummies. Sure, they all have cannabis extract in them so they must all do the same thing, right?

HOW ARE CBD GUMMIES DIFFERENT THAN THC GUMMIES?
CBD and THC are both amazing for different reasons, you get to choose your own adventure. CBD makes you feel calm, relaxed and knocks out anxiety. It can be great for a chill day or those of us that get social anxiety.
THC gives you more of that euphoric vibe, and it does get you high. It's a great alternative to smoking weed because it gives you the same high but you can get it precisely dosed so you don't get stupid high or have to deal with that smoke smell filling your apartment.
Both CBD and THC gummies come in yummy, fruity flavors for a tasty, blissful treat.
APPLE + POMEGRANATE= FRUITY FUN
Green apples and pomegranate combine for a sweet and tart CBD gummy that you'll love. Plus you get that extra added bonus of the antioxidants in Pomegranate. Combined with CBD into a juicy gummy you can vibe out on this favorite fall flavour.
HOW MUCH SHOULD I TAKE?
If you are new to taking CBD then you should start with taking one gummy and giving it about 30 minutes until you start to feel the effects. If you are an experienced cannabis connoisseur you may find a couple of gummies will have you feeling blissful. Since it takes a bit to kick in though don't take too many at once you gotta give it time to kick in and see how you feel before you take anymore.
GET PRECISELY DOSED CBD GUMMIES DELIVERED RIGHT TO YOUR DOOR ANYWHERE IN CANADA
Buuda Bomb has a wide variety of cannabis edibles in varying doses from gummies (LINK TO GUMMIES IN SHOP) to chocolates (LINK TO CHOCOLATES IN SHOP). All of our products are precisely dosed so that you know you are getting a consistent effect every time. Don't leave anything to chance, get the best edibles products on the market. Available to ship anywhere in Canada. If you are looking for Toronto CBD gummies, Vancouver CBD gummies, Ottawa CBD gummies, Winnipeg CBD gummies, Calgary CBD gummies, BC CBD gummies or CBD gummies to be shipped anywhere in Canada we have what you need.
We make handmade edibles that are tasty, organic, and infused with just the right amount of CBD.
OUR MISSION IS CLEAR:
Provide our community with a thoughtful experience through amazing customer service

Make cannabis-infused products out of the highest quality organic ingredients available

From a trustworthy brand that doesn't compromise on taste

Promote proper Cannabis use for a more thoughtful lifestyle
WANT TO FIND OUT MORE? CHECK OUR POSTS ON:
Sleep Smackdown: 6 Drool Inducing Sleep Remedies Rated!
Ready for another article?